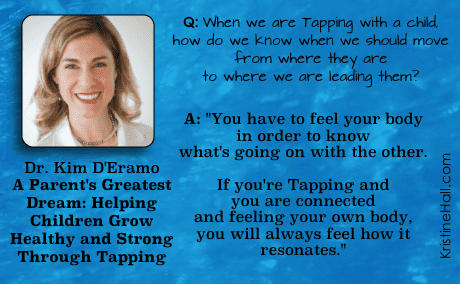 Dr. D'Eramo's compassion for children was clearly evident in this presentation. She shared several stories of children faced with anxiety or anger issues that were resolved through the use of Tapping.
In fact, Dr. D'Eramo has seen so much success with this method that she is teaching other doctors how to use Tapping with children and their parents.
One key point to remember is that children can feel the energy of the parent. It shows in our tone of voice, facial expressions and body language.
Before a parent begins tapping with a child, the parent must first use Tapping to clear their own anxiety about the issue at hand. Once the parent is at a place of calm and balance, she is ready to use Tapping to help her child.
Dr. D'Eramo walked the listeners through two tapping scripts to help them with both stages of the process.
Empower yourself to help your children thrive. Listen to Dr. Kim D'Eramo today!
If you are not yet registered for the 2015 Tapping World summit, you can register HERE now.
You can listen to this presentation for free until 8 PM ET this evening.
Don't wait. What you learn may be life transforming – it may be yours, it may be your child's, but probably both. 🙂