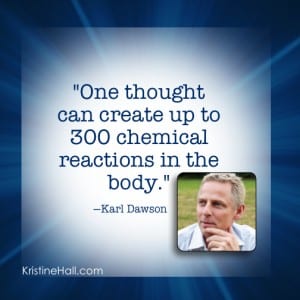 Do you ever find yourself blocked from reaching your peak potential? Struggling to achieve goals that should be doable?

Then check out Jessica Ortner's interview of Karl Dawson titled, A Stunning Future: Reach For the Stars By Breaking the Chain of Your Limiting Beliefs.
Today's interview with Karl  was a refreshing look at how our belief system impacts our daily lives.
Karl began by explaining how our bodies are controlled by energy.
A hot topic recently is the field of science called Epigenetics. This looks at our belief systems and our response to the environment. Karl stated that "what's most important is what we believe."
Many of our core beliefs go back to our first six years of life. These form deeply engrained patterns that can sometimes cause problems. If so, they are referred to as 'limiting beliefs'.
Being consciously aware of limiting beliefs isn't enough to change them. But Tapping does.
How does Tapping transform beliefs? Karl explained this in great detail in this presentation.
5 common major limiting beliefs:
I'm not good enough.
I'm not loved (rejection)
I'm bad. (response to mistakes or bad choices)
I don't belong. (must be invisible to be safe.)
The world is not a safe place.
Karl discussed how to clear the limiting beliefs and then how to move on to replace them with more positive beliefs.
The 2015 Tapping World Summit is a free online event, available for a limited time. The interview with Karl Dawson will be available for free until March 3, 8 PM EST.
If you are not yet registered for the 2015 Tapping World summit, you can register HERE now.
What are you waiting for? Reach for the stars!