Peppermint oil has been used for centuries all around the world.
A short list of peppermint oil benefits includes:
freshens breath [1,2,3]
improves focus [1,5,6]
boosts energy [1]
I love the refreshing taste of one or two drops of peppermint oil in a glass of water.
But my favorite peppermint beverage was inspired by the Bulletproof Executive, Dave Asprey.
Brain-boosting Peppermint Mocha
Ingredients:
8 – 10 oz. freshly brewed coffee
1 Tbsp coconut oil or Brain Octane™
1 Tbsp organic, pastured butter (I like Kerry Gold)
1/2 Tbsp raw cacao powder
pinch of sea salt
2 drops food-grade peppermint essential oil
Directions:
Mix all ingredients in a blender for 10 – 30 seconds until frothy like a latte.
I usually enjoy coffee that is slightly sweet, but with this combination, I love it as is.
Note: If using the Nutribullet personal blender, use caution with hot liquids. With the Nutribullet model I own, I do not fill to the fill-line with hot liquid or it may explode if I don't screw the blade on correctly. [This sometimes happens when I am in a hurry.]
 Enjoy!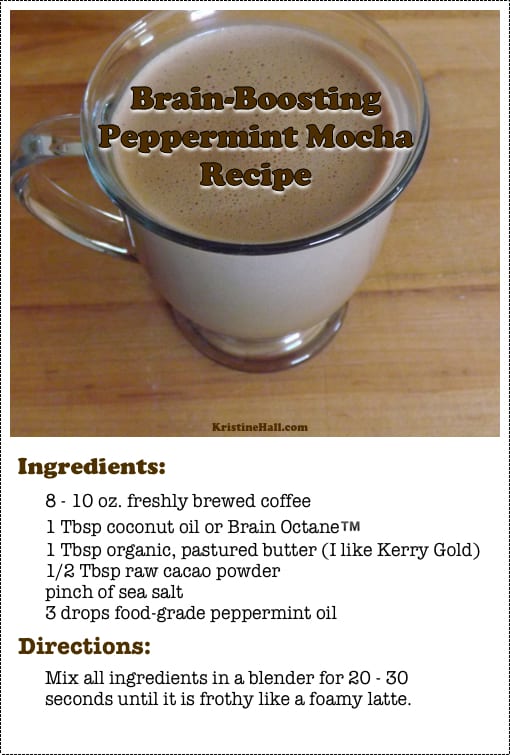 References:
http://draxe.com/peppermint-oil-uses-benefits/
Thosar N, Basak S, Bahadure RN, Et Al. Antimicrobial efficacy of five essential oils against oral pathogens: An in vitro study. Eur J Dent. 2013;7(Suppl 1):S71-77.
Shapiro S, Meier A, Guggenheim B. The Antimicrobial Activity of Essential Oils and Essential Oil Components Towards Oral Bacteria. Oral Microbiology and Immunology 1994: 202-208 (copyright Munksgaard 1994)
Göbel H, Schmidt G, Dworschak M, Et Al. Essential plant oils and headache mechanisms. Phytomedicine. 1995;2(2):93-102.
Dember WN, et al., Olfactory Stimulation and Sustained Attention, Compendium of Olfactory, (Avery N. Gilbert, Editor) pp. 39-46
Essential Oils Desk Reference, compiled by Essential Science Publishing, third edition 2004.