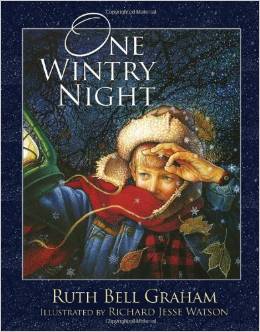 This delightful book is one that our family reads aloud every year in December even though our youngest child is now a teenager.
One Wintry Night by Ruth Bell Graham tells the story of a young boy lost in a snow storm and the kind grandmotherly woman who shelters him and tends to his injured ankle. During the course of the storm, she tells him the true story of Christmas – beginning with the Creation of our world.
One Wintry Night contains much more than a Christmas story. It is a very concise explanation of what Christianity is all about. Not only does this woman explain the story of Jesus' birth, but she also explains the reason for His birth.
The illustrations by Richard Jesse Watson are stunning.
If I could only recommend one children's book out of the hundreds on our shelves, it would be this one.
Enjoy!