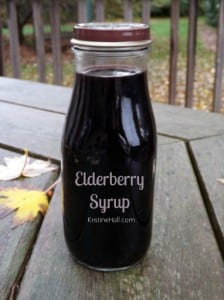 Common sense tells us that nature provides the nourishment our bodies need to maintain a healthy immune system and to help us heal when we get sick – if we know where to look.
Elderberry (Sambucus nigra) is a member of the honeysuckle family. Extracts of the berries are used primarily as antiviral agents for colds, influenza, and Herpes virus infections. Research shows that elderberry possesses immune-modulating and antioxidant properties. [1,2,3]
Making your own elderberry syrup is a simple DIY project. The organic elderberries are easy to purchase online if you don't have a local source.
To support immune function throughout the cold and flu season:
 children: 1/2 – 1 teaspoons daily, adults: 1/2 – 1 tablespoon daily. [4] During illness, increase the frequency to four times per day. [5]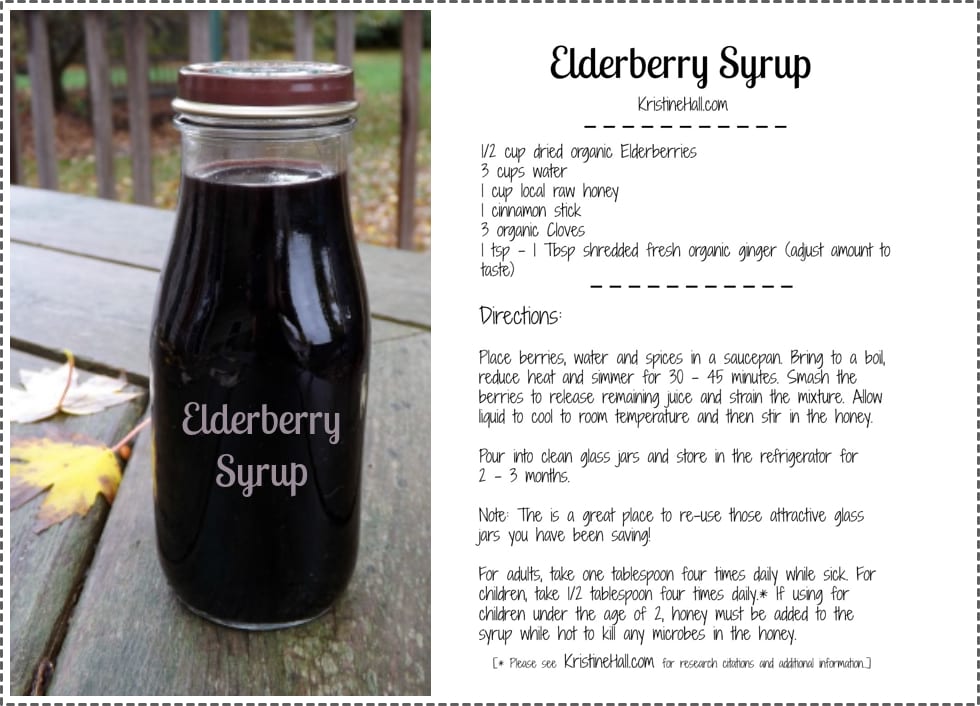 "The antiviral properties of elderberry were first studied by Mumcuoglu, an Israeli virologist, who demonstrated elderberry constituents neutralize the activity of the hemagglutinin spikes found on the surface of several viruses, including influenza A and B and the Herpes virus. When these hemagglutinin spikes are deactivated, the viruses can no longer pierce cell walls or enter the cell and replicate." [3]
Randomized Study of the Efficacy and Safety of Oral Elderberry Extract in the Treatment of Influenza A and B Virus Infections: Abstract
"Elderberry has been used in folk medicine for centuries to treat influenza, colds and sinusitis, and has been reported to have antiviral activity against influenza and herpes simplex. We investigated the efficacy and safety of oral elderberry syrup for treating influenza A and B infections. Sixty patients (aged 18-54 years) suffering from influenza-like symptoms for 48 h or less were enrolled in this randomized, double-blind, placebo-controlled study during the influenza season of 1999-2000 in Norway. Patients received 15 ml of elderberry or placebo syrup four times a day for 5 days, and recorded their symptoms using a visual analogue scale. Symptoms were relieved on average 4 days earlier and use of rescue medication was significantly less in those receiving elderberry extract compared with placebo. Elderberry extract seems to offer an efficient, safe and cost-effective treatment for influenza. These findings need to be confirmed in a larger study. " [5]
Source material:
Lust J. The Herb Book. Reading, PA: Cox and Wyman Ltd.; 1974:174.
Duke JA. Handbook of Medicinal Herbs. Boca Raton, FL: CRC Press; 1985:423.
Roxas, M and Jurenka, J. Colds and Influenza: A Review of Diagnosis and Conventional, Botanical, and Nutritional Considerations, Alternative Medicine Review, March 2007; vol.12, 1: pp. 40 http://www.altmedrev.com/publications/12/1/25.pdf
http://www.mommypotamus.com/elderberry-syrup-recipe/
Z Zakay-Rones, E Thom, T Wollan, and J Wadstein. Randomized Study of the Efficacy and Safety of Oral Elderberry Extract in the Treatment of Influenza A and B Virus Infections, Journal of International Medical Research, April 2004; vol. 32, 2: pp. 132-140. http://imr.sagepub.com/content/32/2/132
http://www.nutraingredients-usa.com/Research/Black-elderberry-extract-shows-anti-infection-activity-Study