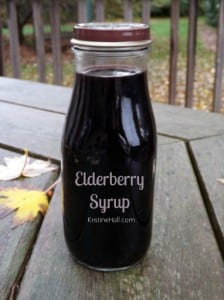 This fall, my family and I started drinking the standard recipe of Elderberry Syrup on a daily basis to boost our immune system.
I wrote about it last month in my DIY Elderberry Syrup Recipe post. (**Please refer to that post for additional information.)
Since then, we have customized the recipe 3 ways.
All variations start with the Elderberry Concentrate. This is sometimes used as a base for Elderberry tea.
Elderberry Concentrate Ingredients:
1/2 cup dried organic Elderberries
3 cups water
1 cinnamon stick
3 organic cloves
1 Tbsp shredded fresh organic ginger
Directions:
Place berries, water and spices in a saucepan. Bring to a boil, reduce heat and simmer for 30 – 45 minutes until liquid is reduced by half.
Smash the berries to release remaining juice and strain the mixture.
Allow the concentrate to cool to room temperature.
Variation 1
Once cooled, pour the concentrate into clean jars and refrigerate.
Take 1/2 – 1 Tbsp. daily to build the immune system.
This works well for babies for babies and toddlers who should not consume raw honey.
This  is a good option for anyone who needs to minimize sugar.
Variation 1 is delicious added to a cup of hot cider or a smoothie.
Variation 2: Standard Recipe
Once the concentrate has cooled, stir in 1 cup of raw honey.
Pour into clean glass jars and store in the refrigerator for 2 – 3 months.
For adults, take one tablespoon four times daily while sick.
For children, take 1/2 tablespoon four times daily. **
If using for children under the age of 2, honey MUST be added to the syrup while hot to kill any microbes in the honey.
Variation 3
Follow directions for Variation 2, but only use 1/2 cup of raw honey.
While we primarily use Variations 1 & 3 for building our immune systems, that will change if anyone gets sick. Variation 2 is the one that has proven health benefits for speeding up the recovery time from the flu.
Source material:
Lust J. The Herb Book. Reading, PA: Cox and Wyman Ltd.; 1974:174.
Duke JA. Handbook of Medicinal Herbs. Boca Raton, FL: CRC Press; 1985:423.
Roxas, M and Jurenka, J. Colds and Influenza: A Review of Diagnosis and Conventional, Botanical, and Nutritional Considerations, Alternative Medicine Review, March 2007; vol.12, 1: pp. 40 http://www.altmedrev.com/publications/12/1/25.pdf
http://www.mommypotamus.com/elderberry-syrup-recipe/
Z Zakay-Rones, E Thom, T Wollan, and J Wadstein. Randomized Study of the Efficacy and Safety of Oral Elderberry Extract in the Treatment of Influenza A and B Virus Infections, Journal of International Medical Research, April 2004; vol. 32, 2: pp. 132-140. http://imr.sagepub.com/content/32/2/132
http://www.nutraingredients-usa.com/Research/Black-elderberry-extract-shows-anti-infection-activity-Study