The speakers from Day 3 each provided a very unique point of view on the topic of autoimmune issues.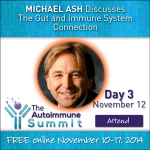 Michael Ash provided an excellent explanation of the gut and immune system connection.
Michael spoke about the importance of eating proper foods such as cruciferous vegetables and stewed apples.
The real gem from this interview was his discussion of the mitochondria and simple steps we can take to improve the health of our mitochondria.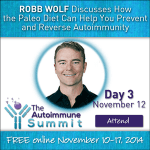 Robb Wolf has been promoting the Paleo Diet for fifteen years because of its role in reversing autoimmunity. He shares some compelling personal stories on the impact of diet on health.
Robb was a eating a vegan diet before he changed to the Paleo diet, so he really understands how overwhelming it can be to make such a radical shift in your approach to food.
He also provides clear reasons for why the difference approaches to implementing the Paleo diet make sense.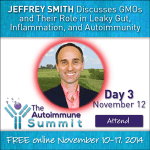 Jeffrey Smith is passionate about educating people about GMOs. He very clearly explained why GMOs are bad for our health and how eating them causes leaky gut, inflammation and autoimmunity.
If you are trying to justify spending more money on organic food, I urge you to listen to Jeffrey. His arguments are very convincing.
But Jeffrey also provides level-headed common sense. "If you accidentally end up eating GMOs, don't worry about it. Because worrying is toxic, and the GMOs are toxic, why have two toxins?"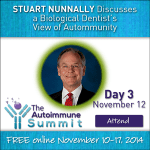 Stuart Nonnelly shares some interesting stories about the history of dentistry and how standard dental practices can have a negative impact on your health.
Two specific areas Stuart addressed are amalgam fillings and root canals.
He even provides a toothpaste recipe for DIYers.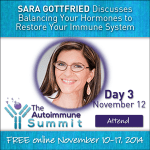 Sara Gottfried is well known as a hormone expert.
If you wonder what's going on with your hormones, this talk is the one to listen to.
I thought it was interesting to hear her connect the dots between elevated cortisol levels and food intolerances.
If you haven't registered for the free summit yet, you can do so HERE.
If you prefer to purchase it – to more easily absorb this critical information at your leisure – you can purchase it HERE and gain immediate access to all of the speakers.