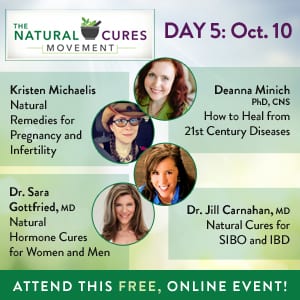 The speakers for Day 5 of the Natural Cures Movement online summit are Kristen Michaelis, Deanna Minich, Dr. Sara Gottfried, and Dr. Jill Carnahan.
Kristen Michaelis discussed the key nutrients required for a healthy pregnancy and a healthy baby. Many women know that they need to eat well while pregnant, but I think that Kristen's fertility diet is something that every couple even thinking about getting pregnant needs to consider. Some of the nutrients she highlighted were magnesium, Vitamin A, Vitamin D, and B vitamins. The details Kristen shared about how Vitamin A from animal sources benefits the developing baby would inspire any pregnant mom to search for the recommended food sources. If you (or someone you love) are pregnant, you will want to hear Kristen's stories of her pain-free natural births – three of them. Don't miss this interview!
Dr. Jill Carnahan always looks for the root cause of any chronic condition such as autoimmune diseases, allergies, asthma, obesity, diabetes and gut issues. In particular, she spoke about the how the trillions of microbes in our gut affect our health. She explained in great detail what SIBO (small intestinal bacteria overgrowth) is and how it relates to Crohn's disease, ulcerative colitis, and IBS (irritable bowl syndrome). Did you know that joint pain and lower back pain are associated with SIBO? Dr. Carnahan spends a lot of time talking about how our diet profoundly affects our gut health. If you aren't convinced that organic foods are any different than non-organic foods you need to hear this interview.
What happens is glyphosate and Roundup and some of these exposures in our food supply (especially processed foods) dramatically alters the gut microbiome. So it will preferentially kill good species like lactobacillus and bifidobacteria, and leave harmful species like clostridia and some of these pathogenic organisms." — Dr. Jill Carnahan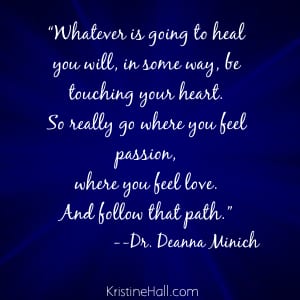 Dr. Deanna Minich is a body, mind, spirit nutritionist so she approaches health from a different perspective than many practitioners. Some of the 21st Century diseases she talks about are chronic fatigue and fibromyalgia. The primary causes, according to Dr. Minich: stress, being stuck in a rut, and toxicity. She shares insights on many healing approaches that relate to lifestyle, not just the diet. For example, Dr. Minich likes yoga and chi gong because of the way they balance the body, mind and spirit.
Dr. Sara Gottfried provides a very straightforward approach to improving hormone balance. Her three-pronged approach: find the root cause, fill the nutritional gap, and craft a lifestyle reset. In this interview, Dr. Gottfried shares the 3 worst foods for hormone health, the 3 best foods for hormone health, and her top 3 supplement recommendations. I'll only provide one spoiler here. The worst food for hormone health is toxic grain-fed meat. You need to listen to the interview to discover the others.
If you have missed previous interviews, don't worry. You can purchase the recordings HERE. If you haven't registered yet, go HERE now so you don't miss another day!